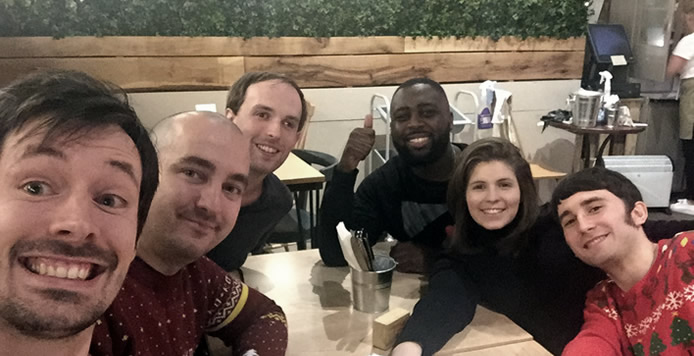 From the surface it might seem like we have had a quiet year here at Daymedia. Well, it has been anything but quiet! The year gone by has seen some very exciting times whizz past…
One very exciting project
We spent the bulk of 2015 working on a single project. Stewart has been on it for 100% of the year, Dan around 70% and myself and Jenna have also poured a huge amount of time in to this hugely exciting piece of software.
I can't say much at this stage, but it combines some elements of project management, customer relationship management (CRM), and will enable our client to really enhance their (already exceptional) customer experience.
We've really gained a knack for attracting complicated projects throughout 2015, and this was no exception! I really can't wait to write more about this, and hopefully in mid 2016 we can begin to elaborate a bit further.
Our social/networking hiatus
If you follow us on social media throughout year, you will have seen little more than a photo of me garbed in Christmas decorations.
I guess the big project took us away from the social scene in 2015, and business networking in general. Don't worry though, we love networking and I hope I (and some of the team) can get out there a bit more in 2016.
You'll find us at SyncHerts, BNI Blaze (Hitchin), and The London Umbraco Meetup. Hopefully more, and if you want to invite us to any other meetups please drop us a line 🙂
Back to University
I will also be speaking at University of Hertfordshire in February, this one's called "Starting a business".
On that note, I did manage to make it to UH Flare awards in September 2015. It was a very inspiring evening, and I met some very talented entrepreneurs. Congratulations to Greg McClarnon of Splaat, and Health Hut, whom I had great conversations with on the night. I think also a mention for Pernelle is a must, what an impressive brand, you would hardly believe it is such a young company.
I fell in love with Umbraco!
We've always been strong advocates for WordPress, particularly throughout 2011-2014. However, recent times have seen us investigating other content management systems, and Umbraco really gave us a good, firm slap in the face this year when we noticed they had totally revamped the backoffice in version 7 (back in late 2013).
It is a million times more user-friendly now, the development process is smooth, and it has enabled us to deliver some complex functionality to our clients this year with significantly greater confidence than we would have had with WordPress (in our opinion, please don't bash me for that, we still like WP too!).
We will continue to work on new WP websites, and support our existing ones. We've always been about matching the right technology with the project at hand.
Whatever tech we use though, we know our design skills will provide…
Surprisingly good results!
Just recently we sent out a short email campaign to our subscribers, and for that we wanted to get a more up-to-date case study. So, I approached a few of our clients and I was amazed to hear from Crane & Staples (a website, that we launched in late 2014) that we actually doubled their online business in 2015! Wow.
I was expecting a 30-40% increase, something like that, but 100% will do very nicely. If you want great online results for your business, you know who to call 🙂
It's very satisfying to see a plan come together, further proof that a good website will pay for itself!
The Team
This year saw two new arrivals in the Daymedia team; Richard Arnold (Sep) and Olu Adeite (Jan). Richard has made excellent progress here working with Stew and Dan on various WordPress projects, whilst Olu organised the team in the role of project manager.
Sadly though, Olu has since decided to move on, after a very productive and successful year, he's gone to work at Nike HQ. So congratulations to him, and we all wish Olu the best for the future. He's a great guy, and (despite being an Arsenal fan) has a bright future ahead of him.
The photo above is from our Christmas meal at Stevenage's newest eatery, Salt and Good. (Which I highly recommend) So we finished the year on a high!
See you in the New Year
I am sure I have missed out quite a lot from this post. 2015 has been a year of ups and downs, but overall one thing has remained consistent: The quality of our work. I am privileged to work with such a great team, we've always achieved great results, and that has certainly contributed to our recent upsurge in business enquiries.
Here's to a successful 2016!