Daymedia wins Gold at the Hertfordshire Digital Awards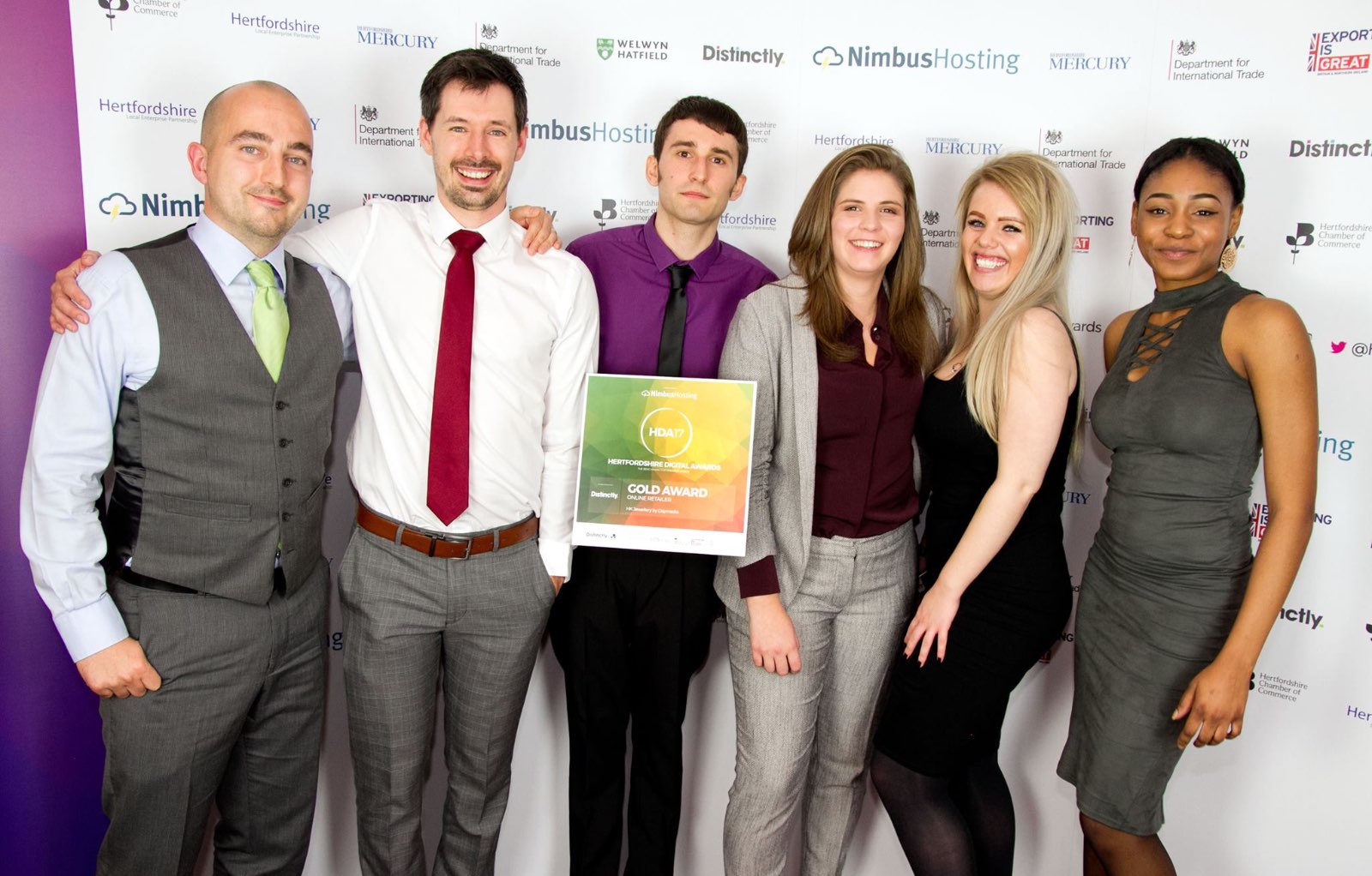 Last week we had the privilege of attending the Hertfordshire Digital Awards, and would you believe it? We picked up a Gold Award in the highly coveted Online Retailer category for our work on the HK Jewellery website.
To say that we're proud is probably an understatement. I'm starting to wonder if our faces will ever return to normal, following the crazed ear-to-ear smiles that are currently illuminating the office!
So… how did it go?
This is the first year we've entered The Digital Awards and we were absolutely chuffed to see three of our websites make it as finalists.
The quality in the Online Retailer category was very high, given the standard of all the other finalists it was an amazing achievement to win, and I am so proud that the huge effort of the team has been recognised here

Chris Day / Daymedia
For us, in the end it was HK Jewellery that won Gold for Online Retailer, presented by Associate Sponsor – Distinctly.
We were delighted that Tim Alban from HK Jewellery could join us on the night. We've been working together closely on this project for nearly three years, building a bespoke business management system in conjunction with the new website.
The finer details of the award winning HK Jewellery
The HK Jewellery website is fed by a growing database containing over 17,000 items of bespoke jewellery, most of which were migrated from a suite of legacy systems.
Live chat and sketching functionality allows visitors to have a consultation with a designer and watch as they sketch out ideas in the browser. Visitors can also create their own inspiration boards and kick start their customer journey by sharing their inspiration board with anyone – including the talented designers at HK Jewellery.
Behind the scenes is a bespoke business management system and a powerful CMS that allows HK Jewellery to bring customer experience to the forefront of their business.
Daymedia have delivered a solution we would never have been able to achieve with something off-the-shelf. It is easy for our staff to use, scalable, and helps us deliver a magical customer experience.

Tim Alban / Managing Director / HK Jewellery
Overall it was a great experience for the whole team. To win an award at the first attempt is a great feeling, and hopefully it will be the first of many!