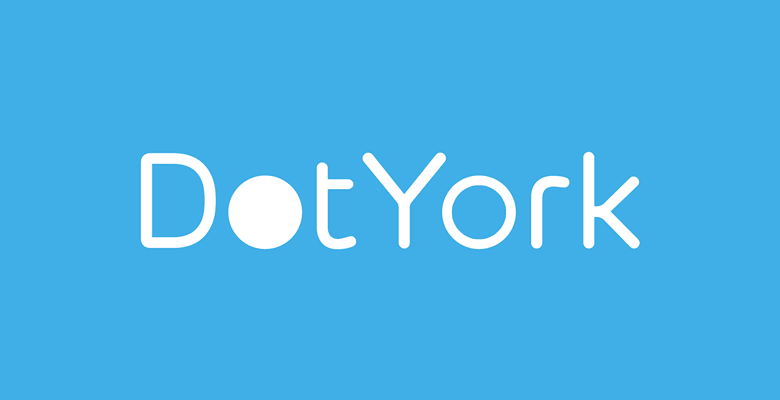 It's a rare occurrence for our whole team to be out the office at once – unless it's after hours and the pub is involved. Nevertheless, DotYork Conference offered what appeared to be a great line up of speakers at a generously low price. The offer was too good to miss, so we snapped up the first 4 early bird tickets.
After what was a very early start and a long drive up north to the beautiful city of York, we arrived! Hoorah! The welcome team were extremely helpful and friendly providing us with our welcome packs, passes and telling us where we could retrieve our free cups – wait for it – with our names on! What a fantastic way to please your conference goers.
The conference took place in York's City Screen Picturehouse that sits on the River Ouse. Sadly the weather was feeling very British that day, but the venue was perfect for such a conference. Comfy seats, air conditioned, cup holders! Not to mention a good view of the stage, no matter how far back / forward you are.
All of the talks were fantastic, and I could write about them all… but in order to keep a sensibly sized blog post, here are a few of the talks that really interested me:
First up – James Young – The things you learn when you're the client
After conversing with James over twitter beforehand, I knew public speaking was a scary prospect for him. Saying that, hats off to James! His talk was superb and contained some very valuable points.
James talked us through the online japanese knife business (Cutting Edge Knives) his agency started up – on top of being a digital agency. Not only has this side business come in handy financially, but it means the guys at Offroadcode now have first hand experience of what it is like to run a business. Offroadcode can now say "Oh, I know how that feels" to their clients, and I think that's something that's really comforting for clients to hear.
James continued to talk us through the ups and downs of their startup business. What worked, what failed. One slide in particular received a lot of attention.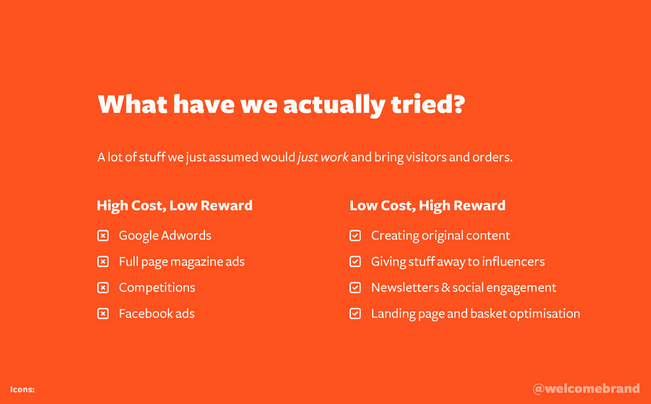 Almost half the room had their mobile devices held high taking pictures, and for good reason. There's some extremely valuable information on this slide. Albeit these results are related to a specific project – but still handy to be aware of.
You can see the rest of James' slides here.
Next up – Ashley Baxter – I suck at my job
Ashely was nominated for 'Conference Talk of the Year' at this years Net Awards, so I had high hopes for her talk – and she didn't disappoint. Besides being a sucker for a Scottish accent, I enjoy a bit of story time, and Ashely's personal tale about her failing business was fascinating.
Her story was perfectly executed to lead up to her announcing a new business venture of hers, Insurance by Jack. Ashely shared with us her experiences that have inevitable drove her to take her own leap of faith, and it was kind of nice to be there when she announced it.
Rachel Shillcock – My Journey Through Fear
I have wanted to see Rachel talk for quite some time now so I was quite excited for her talk. Rachel had clearly done her homework on the subject of fear, with her scientific research she explained the physiological and physical effects it can have on us. As with anything, I think the more you understand it the more you can learn to control it, so this was very valuable to know – but Rachel also gave us some other great tips too.
Rachel's talk certainly resonated with the majority of the room, one audience member (I'll call him Glen Coco) in particular shared a snippet of his own journey through fear which was also great to hear. You go Glen Coco!
You can see the rest of Rachel's slides here.
All in all…
As a team we thoroughly enjoyed attending the first DotYork Conference. The theme "A leap of faith" was very different in comparison to other conferences. It made for a chance to talk about other aspects of our industry than just design and development. We're all aware there's more to design than pixels, and more to development than code, so it was refreshing to hear others speaking so openly about their experiences.
The organisers, Jonic and Rick did a fantastic job and have already received a well deserved amount of praise for the event, but we would like to thank them personally. Everything from the venue, to the speakers, to the freebees were top notch. Well done guys.
All that's left to say is here's to DotYork 2015!