If you haven't heard of SyncHerts yet, it is a new (and thriving) tech + startup community in Hertfordshire. Last week, I spoke at the UX event, right here at the BTC in Stevenage.
I'd like to thank everyone for coming along, and listening to me rave and rant about user experience design. I really enjoyed it, and it generated a really interesting discussion amongst the attendees that got us all thinking. Despite the mass consumption of pizza and beer, there was still a great buzz in the room and it was great to see so many ideas coming out.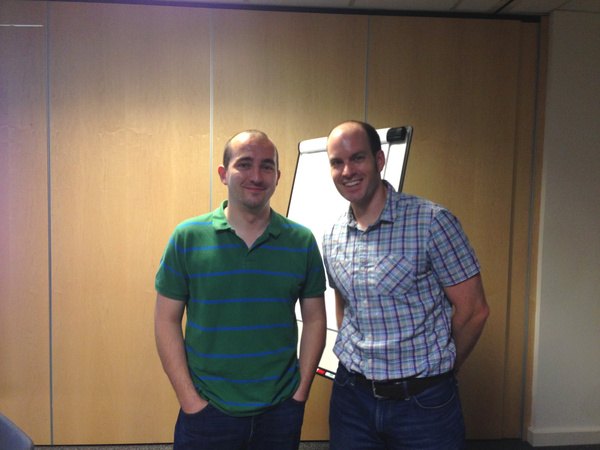 Me, and Neil Turner who also delivered a great talk on the day.
So, what was the talk about?
I gave a short presentation based on my article for Smashing Magazine. Focussing on one key point – tailoring your UX process.
As design professionals, we have a repertoire of activities that we can use to complete our projects. These includes various types of research, personas, as well as a variety of different wireframe techniques.
Not all techniques are right for every project. For example, making up personas when you have access to real users (say, for a rebuild of an existing interface) isn't a productive use of time. Equally, creating an animated prototype might be suited to more complex software products, whereas a simple wireframe would suffice for a website project.
Here at Daymedia, we've started to list all of our potential activities, and then pick out the relevant ones depending on the project we are working on. There is no one-process for UX, it really is something that has to shift with the requirements (and in many cases, budget).
Join in!
We'll be making the short journey downstairs again next month, and you should head over to the btc to join us as well! You can find all of the upcoming event details here on Meetup: http://www.meetup.com/SyncHerts/
If the educational and networking side of the event doesn't persuade you… there is also free pizza and beer!
Special thanks to the event organisers; Brian and Gita for arranging the event, and for allowing me to come along and do my talk.
Until next time…