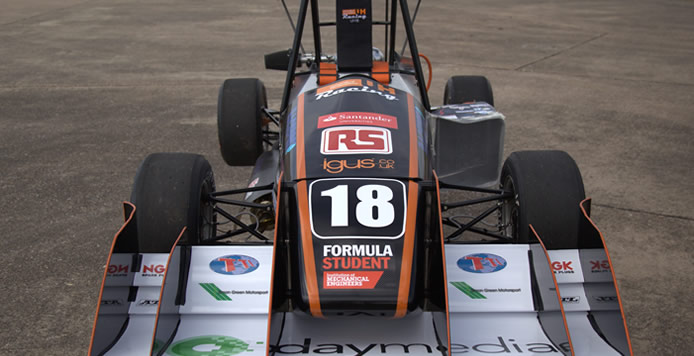 After a tough year of balancing studies and building a Formula Student racing car from the ground up, the team at UH Racing recently unveiled their latest car – UH18. During the same week they also unveiled their new modern website, designed and developed by team Daymedia.
Daymedia have been a proud partner of UH Racing since 2011, creating their previous website too – but it was a unanimous decision by both teams to redesign the entire website and create a visually stunning, modern website that reflects the teams innovative style.
I had the pleasure of managing this project, and what a pleasure it was! By working closely with the team at Daymedia and UH Racing's Media team (Ashley Craig & Laura Wooton), we were able to keep the project progressing smoothly towards completion and collaborating as we went.
Jenna created a clean, modern design for UH Racing which they instantly fell in love with and were very keen to sign off on almost immediately.
And so development commenced! Richard took the project on immediately after joining Daymedia in April 2015. Throughout the projects development, Richard was able work closely with the rest of our team, learning and progressing as he went.
Once development was complete we sat down with Ashley and Laura at our office and presented to them the final result.
On the 18th June, I attended the UH Racing Launch event where they unveiled all their hard work in the form of a very impressive Formula Student racing car – which they will race at Silverstone UK and Hockenheimring Germany this summer. The event also included an inspiring talk from former F1 and Le Mans driver, Jackie Oliver who was guest of honor and a chance to meet the whole team.
All in all the project has been a great success and we've enjoyed working with UH Racing once again. The majority of the team here at Daymedia are graduates from the University of Hertfordshire, so our partnership with UH Racing and the University itself will certainly remain loyal for many years to come.
Best of luck tp everyone at UH Racing for the events this summer.